Mew is furry much welcome to have mine banner and link it back to me. I hope mew come visit agian soon. Purries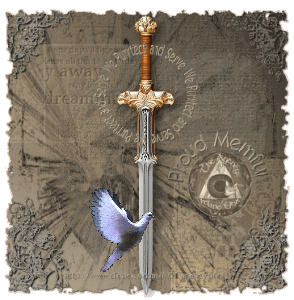 Dis link takes mew to DaAgency, mew will habe a furry good time dere. Mew might eben decide to join . Dis iz a purlace I luff furry much. Auntie Cass, made da halo kitten pictuer of me in da clouds, fank mew Auntie Cass.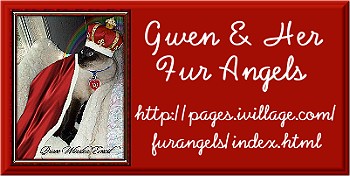 And dis one takes mew to a fun and luffing fur family, bisit and enjoy the antics of Gwen's furangels. Auntie Gwen also helped me get dis site , her is sweet. Fank mew Auntie Gwen.

Chappy's Purlace is full of fun , and mine furiend Susan, does a lot of work wiff da shelters. Mew will find dis a heartwarming purlace to be. Auntie Susan made mine link banners fur me. Fank mew Auntie Susan.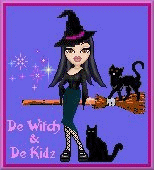 Dis site includes family & friends, da furr babies and the sweet Bear d*ggie. Auntie Candy helped me get mine site up and going, and helped me learn to make mine pictures into backgrounds. Fank mew Auntie Candy.

Dis is mine bud Bentley's site. Him quite a kitty. Is him an angel or is him a devil? One thing fur sure, him is bad to the bone. Mew needs to go to his site to see for mewer own self. I is sure mwe will enjoy dis site either way.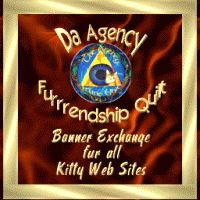 Here mew will find many links to kitty sites, dis is made up as a quilt of furrendship. It is just breathtaking. Come see for mewerself, and enjoy.

Dis site belongs to mine good bud Biggie. Here mew will meet him and his family. Dis site has lots off neat stuff dat mew will enjoy. Eben recipies, after all Biggie, like all us tomz, luffs to eat. Biggie is mine sisfur, Firefly's Godfather. Just click on da banner above to bisit.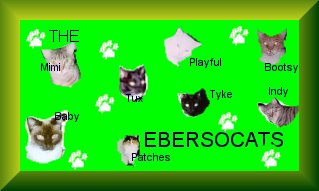 Dis is a fun site dat belongs to mine good bud Tux. Mew can meet him and him brofurrs and sisfurs here. Him gots a brofur named Indy dat is into efurryfing. Dere is lots to see here too. To bisit dis nice site, just click on da banner above.

Dis is a lovely site, dat includes my friend Lainie's lovely pets, and poetry. Im sure mew will enjoy mewer visit.
Dis is mine bud Charlies site, he iz da leader of the "woods" patrol for DaAgency. He also is a fine undercober agent. Visit hiz site , mew will be glad mew did, mew will see one of hiz most famous disguises.

Dis is mine bud, Royal. him is all white kitty like me. He iz an "odd eyed" kitty. A kitty wiff one blue eye and one yellow or is it green? Maybe mew should go to hiz site and find out. Him is also a "Woods Patrol" kitty for DaAgency.

Dis is mine good bud Murff. Him is da lion king kitty. See him crown? Him is a great kitty and him has a furry nice site, dat mew should go bisit. I fink mew will agree.